A "thaniya" is a small crack in a mountain. The city of Petra had several thaniyas, or passages through the mountain. The main one is known as the "siq" alowing people to pass from Wadi Mousa directly into the city. On the other end of the city is another thaniya that leads down into Wadi Araba. These are the best known thaniyas or narrow crakcs through the mountain.
Before you go rushing over the dam and into the siq, top, read the sign, and look around. On the left of the siq is a water channel that brought water from a spring several miles away into the heart of Petra. There is even a Game Board behind the rock with a bench infront of it. The water channel on the right is washed away at this point, but is quite clear later on. Just to the right of the two people in the photograph is the remains of a triumphal arch that used to span the entrance to the siq. Now it is time to get excited, because this impressive crack in the mountain is over a kilometer long!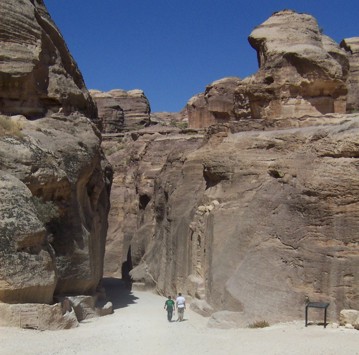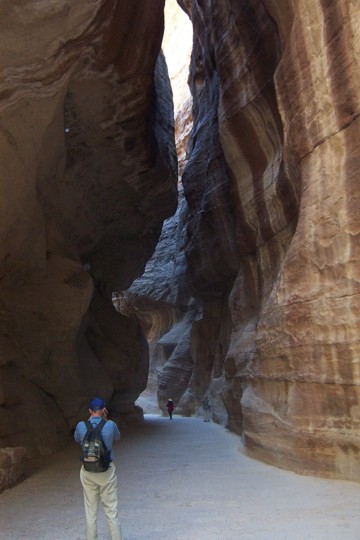 The picture above is taken at one of the narrowest part of the siq. It is a great place to stop and look around. On the left hand side of the siq is the water channel. It used to be covered, but long ago ancient floods washed away the cover stones. On the right side of the siq an ancient clay pipeline can be seen. These clay pipes also brought water down to the center of Petra. It is possible to see two well preserved sections of pipe in the museum in the center of Petra.
On one occasion when taking a British building contractor through Petra, he noted that the ends of the clay pipes were tapered, something we moderns only figured out how to do a couple of hundred years ago.