Mosque Name: Khirbet Samra Mosque
Country: Jordan
City: Samra, Mufraq Province
Year of construction (AD): 600-699
GPS: 32.180045 36.162585
Original Qibla: Petra 198
Rebuilt facing Mecca: Never
Description:
This mosque is located on the hill above the old Samara Train Station. (see: Samara Station) The mosque is built in a typical Rashidun pattern: a board rectangular room, 16 meters wide and only 4.4 meters deep. It has an entrance in middle of the north wall, and a rectangular miḥrāb cut into the middle of the south wall. The Qibla direction appears to be about 197.26 but this needs to be confirmed by measurements on the ground. It appears the square mihrab was added later to the Qibla wall, and that this wall was then reinforced with rows of massive white limestone blocks.
More information can be found on pages 162-164 in: Islamic Heritage Sites in Jordan, A Student's Gazetteer, prepared by the MA-Students of The German-Jordanian University, in Architectural Conservation School for Architecture and Built Environment Academic Years, 2017 - 2020, edited by Thomas M. Weber-Karyotakis & Ammar Khammash with Hussein al-Aza'at, Nader Atiyeh, Catreena Hamarneh, Khairiyeh al-Kukhun & Robert Schick. GJU, Amman 2020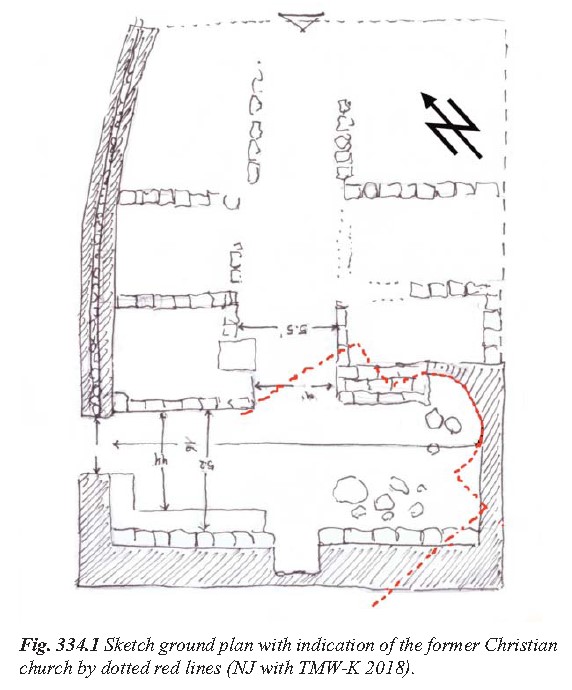 In the north-east corner of the mosque there are remains of the apse of a Christian church which previously occupied the site. This church was oriented to the east.
Dan Gibson estimates this mosque was constructed around 660 AD.
This information has been taken from Page 405, Islamic Heritage Sites in Jordan, A Student's Gazetteer, edited by Thomas M. Weber-Karyotakis & Ammar Khammash, GJU, Amman 2020