Location Name: Tell Qarassa Graves
Country: Syria
City: Caramil
Year of construction (AH): 81-183
Year of construction (AD): 700-799
GPS: 36.377965 37.275096
Gibson Classification: Between
Description:
There are two Umayyad era burials along the northern ridge of this site. Unfortunately we have not been able to obtain any precise direction that the graves faced, other than "towards the south, towards Mecca." Sadly it seems that no one thought to measure precisely the direction the bodies faced, or thought to place this information in their article.
However, in the article is a photograph from the report. The direction of north is placed on the photo but with no indication of how this was measured. It seems the graves faced 'south' exactly at 180 degrees. If this is true, then that would mean the body faced within 3.61 degrees of the Between Qibla. We reserve the right to reclassify this grave, once more precise measurements can be obtained.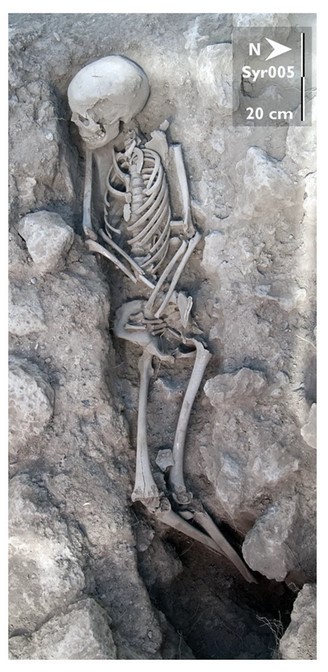 From this location, popular qiblas at the time were: Mecca: 170.86, Petra: 194.73, and Between: 183.61. However, we have not visited this site, and have not been able to determine a more exact qibla direction. When further information comes available, this site has been re-classified.
While Tell Qarassa North is usually known as a prehistoric site, there are two narrow graves on the surface levels of the site and directly radiocarbon dated to the Umayyad Era (seventh to eighth centuries) No cultural artifacts were associated with the human remains and no evidence of an Umayyad Era cemetery was documented at the site. The two Umayyad Era burials (UEB) were located very close to each other.
Above taken from the article: Bioarchaeological evidence of one of the earliest Islamic burials in the Levant. https://www.nature.com/articles/s42003-022-03508-4#ref-CR47?utm_campaign=related_content&utm_source=ECOEVO&utm_medium=communities