Mosque Name: Bibi Samarkand
Country: Uzbekistan
City: Samarkand
Year of construction (AH): unknown
Year of construction (AD): unknown
GPS: 39°39'38.39"N 66°58'49.57"E
ArchNet: http://archnet.org/authorities/3928/sites/2464
Original Qibla: Petra
Rebuilt facing Mecca: never
Description:
Bibi Khanum Mosque in Samarkand, Uzbekistan. This mosque was probably built on the location of a much ealier mosque established by Arab traders traveling along the Silk Route.
Then in 1399 Timur (historically known as Tamerlane) decided to undertake the construction of a gigantic mosque in his new capital, Samarkand. The mosque was built using wealth looted during his conquest of India. When Timur had returned from his military campaign in 1404 the mosque was almost completed. However Timur was not happy with the progress of construction, therefore he had immediately made various changes, especially concerning the main cupola. From the beginning of the construction, problems of statistical regularity of the structure revealed themselves. Various reconstructions and reinforcements were undertaken in order to save the mosque. However, after few years the first bricks had begun to fall out of the huge dome over the mihrab. It forced Timur to retaliate often beyond the structural rules. His builders were certainly aware of that, however he didn't want to accept their opinion and reality.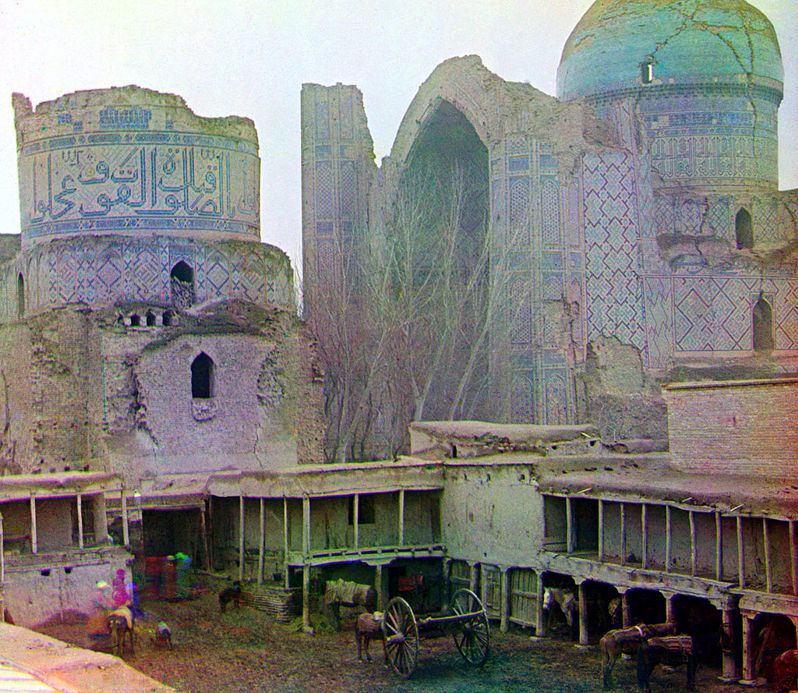 In the 15th century it was one of the largest and most magnificent mosques in the Islamic world. By the mid-20th century only a grandiose ruin of it still survived, but now major parts of the mosque have been restored. Only four large fragments and a minaret survive from this large mosque.
Even though it is now in a ruinous state, we can still determine that the qibla did not face Mecca. The locals acknowledge this anomaly and have a quaint legend stating that the Hanafi who used the mosque prayed due west, and the Shafi'i who used the same mosque prayed due south. In the end they agreed on a qibla between the two. Since the mosque's qibla points to Petra it is more plausible that the mosque was built on the site of an earlier mosque whose qibla already faced Petra