Mosque Name: Sede Boker Mosque

Country: Negev

City: Rural, Negev Highlands

Year of construction (AD): 700-799

GPS: 30.881611 34.790761

Original Qibla: Unknown

Rebuilt facing Mecca: never

Description:

Sede Boker. During the archaeological surveys conducted in the Central Negev Highlands in the 1960s (Cohen 1981; 1985), an open-type mosque was discovered on a hilltop west of Sede Boker Cohen 1985: 65-67). The structure consists of a rectangular room (5 x 12 m) with a curved mihrab niche in the middle of its southern wall, and a small, square room leading into a courtyard (9 x 10 m). The walls, preserved to a height of 0.6 to 0.8 m, are built of two rows of dressed stones with a filling of gravel. From the minimal rubble, it seems that the original height of the walls was 0.8 to 1 m, and that the building lacked a roof. Several hundred Arabic inscriptions were unearthed in the vicinity of the mosque (Nevo 1985: 3-4; Sharon 1981; 1985); some predated its construction (Nevo 1985: 4; Sharon 1990: 9*-10*). A settlement discovered near the mosque contains the remnants of dozens of structures scattered over an area of 0.5 km2 (Cohen 1981: 50-52, 67- 70; 1985: 63-65).4 Systematic excavations carried out by Nevo during the past years have exposed several dozens of structures; according to Nevo's interpretation all of them were cult sites. The mosque was built several decades later, obliterating some of the inscriptions. Nevo suggests that Sede Boker was a ritual center for the nomads who inhabited the area during the seventh and eighth centuries C.E. (Nevo and Koren 1990: 26), and that evidence is offered here of a transitional stage between pre-Islamic religion and the emergence of Islam (Nevo 1985: 12-21).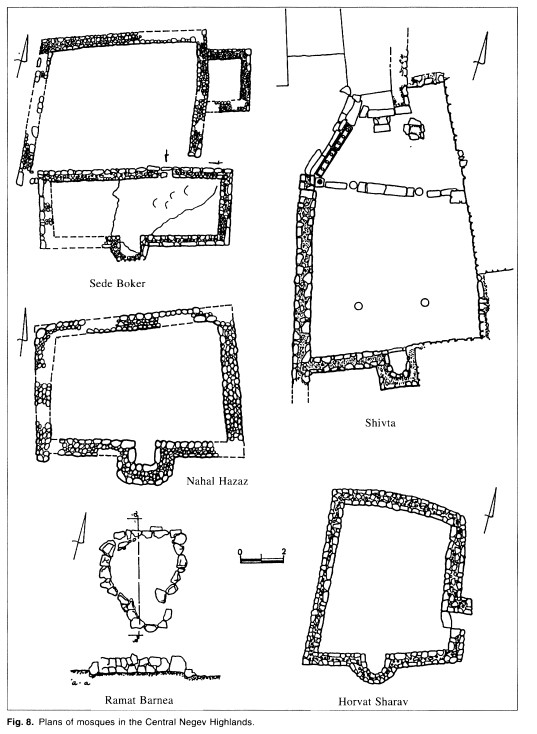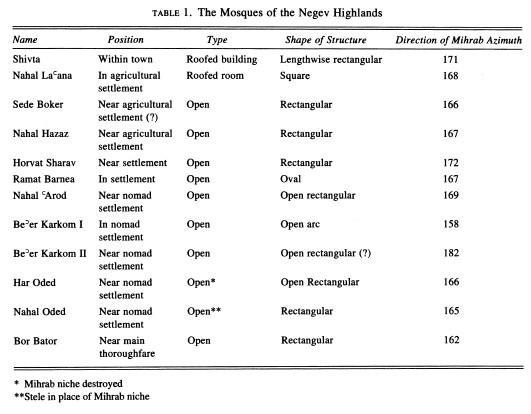 Information taken from:
Early Mosques in the Negev Highlands: New Archaeological Evidence on Islamic Penetration of Southern Palestine Author: Gideon Avni Bulletin of the American Schools of Oriental Research, No. 294 (May, 1994), pp. 83-100