Mosque Name: Fenghuang Mosque
Country: China
City: Hangzhou
Year of construction (AH): unknown
Year of construction (AD): unknown
GPS: 30°14'43.67"N 120°10'14.50"E
ArchNet: http://archnet.org/sites/3971
Original Qibla: unknown
Rebuilt facing Mecca: 1314 AD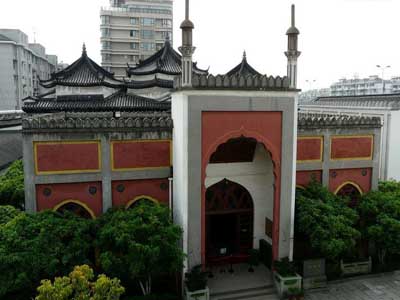 Description:
This mosque is the third oldest mosque in China, predated only by the Great Mosque of Guangzhou and the Great Mosque at Quanzhou. It was probably first erected sometime in the seventh century under the Tang Dynasty. It was rebuilt between 1314 and 1320 by a Persian missionary named Aladin during the Yuan Dynasty, and rebuilt again during the second half of the fifteenth century under the Ming Dynasty. Located on Zhongshan Road in the heart of Hangzhou, this mosque, like its precedents, is illustrative of the changing attitudes towards the synthesis of local Chinese and imported Islamic styles throughout the centuries.
The mosque consists of a prayer hall joined to a monumental gateway via a two-storied open pavilion, all clustered within a dense urban complex. The oldest remaining segment of the mosque is the qibla of the prayer hall, which consists of three bays with brick corbelled domes that open into each other with double archways. The central dome is the largest and measures
Because it was destroyed in the Song dynasty (960-1279) and rebuilt in 1281 (possibly 1314) and then again in 1451 and 1646 its original qibla direction cannot be determined.