This tool will introduce you to the places in Petra that Dan Gibson identifies as being Islamic places. Please note that almost all of the names for places and monuments in Petra today are not ancient names. These are the names that have developed for these places over the last five hundred years, while Petra was "hidden and forgotten" to the rest of the world. Monuments like the Treasury, get their name from people who thought that the top of it contained a hidden treasury. So many early explorers and travelers used guns to shoot at it, to try and break it so the treasures would spill out. It only ended in damaging the facade.
Dan Gibson used the Qibla direction of the mosques of the first century of Islam to determine that the ancient city of Petra was the original holy city of Islam. (See The Qibla Tool) Then using the descriptions of early Islamic writers, Dan Gibson identified the Islamic places in Petra, and has traced out the original pilgrimage route.
Now you can use an online tool to discover the Islamic places around the city of Petra. This tool is under development, so there may be some small changes, and additions over the coming months. (2020)
CLICK THIS LINK FOR THE GOOGLE EARTH PAGE Please allow time for it to load.
This link will take you away from nabataea.net to a special program in Google Earth.
Close the pop-up window that says Create Collaborative Maps
Use the menu items on the bottom left to systematically walk through each of the places, or click on the blue markers on the map.
The walk-through starts with Al-Aqsa in Jirana on the outskirts of Petra, and takes you along the pilgrimage route into the city. From there you can explore other places along the way that Dan Gibson has identified as important to Islamic History.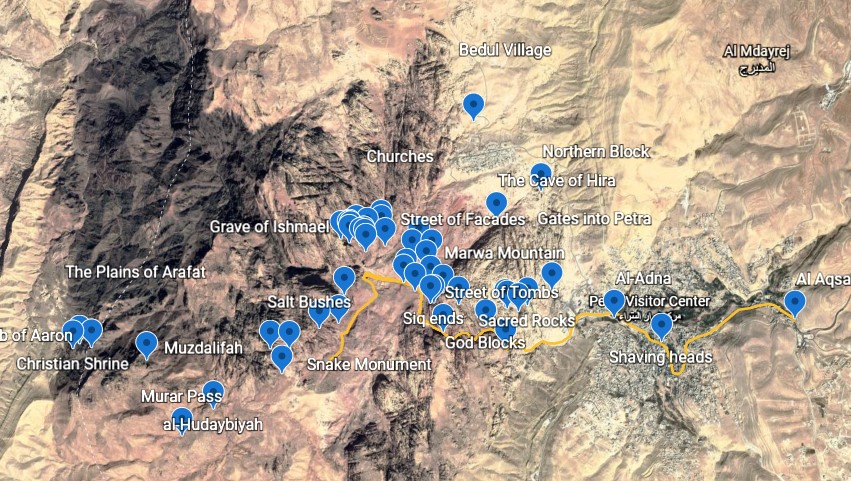 CLICK THIS LINK FOR THE GOOGLE EARTH PAGE Please allow time for it to load.