Repair Work among the Monuments of Petra, in Jordan
The Illustrated London News, March 31, 1962, Page 502/503
Archeological Section no 2085
Used by permission
In a poor country with a rich past, like Jordan, tourism can well form a vital element in the country's finances; and in view of the historical interest as well as the romantic appeal of Petra - that "rose-red city half as old as time," - it is reasonable that a quota of Point Four Aid should be spent on restoration of the fantastic Nabataean and Imperial monuments of the place and improving the amenities of, and approaches to, this desert stronghold. The Department of Antiquities decided to undertake some restoration and invited Mr. G. R. H. Write to undertake and direct the work; and it is to him that we owe these illustrations and the information on which these notes are based.
Three principle projects were put in hand: (1) the consolidation of the Arched Gate - which was in a bad state of disintegration; (2) the re-erection of some of the fallen columns in the Colonnaded Street, and (3) to attempt to re-erect the huge fallen column in the facade of the mainly rock-cut building, known as the Khazne, or Treasury - the most notable of the monuments in Petra and the one first seen on emerging from the Siq, the entrance gorge.
Such tasks are more difficult of achievement and so much more costly in so remote and desert a place as Petra than they would probably be elsewhere, and it was necessary to plan ahead, and assemble on site: (1) scaffolding; (2) lifting equipment; (3) building materials; and (4) skilled labour. Items (3) and (4) proved not so difficult: the mason's craft survives and thrives in Jordan, and the project was particularly fortunate in acquiring a carpenter used to and skilled at working at great heights; and the appropriate materials were available.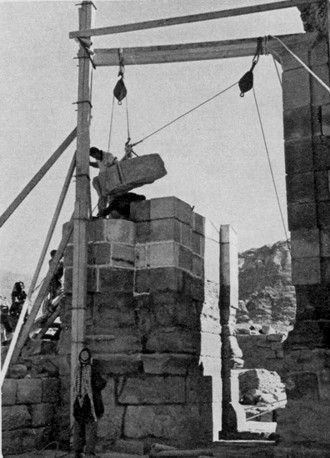 For lifting equipment, several "Trifors" devices were obtained. Each of these is capable of lifting about 1 ½ tons on a steel cable and it can easily be carried by one man and it is, besides, self-locking.
Scaffolding, strangely enough presented a major problem. Owing to the fat that it had to be brought into Petra on donkey-back through a narrow winding gorge, it was impossible to bring in timbers longer than about 13 ft.; and as a result, all scaffolding - up to over 50 ft. high - had to be composed of unites 4 meters long, bolted together and tied and braced.
With these factors in mind, it can be realized that the repair to the facade of the Khazne, (Figs, 2, 3, 6, 7) was a considerable feat. The capital, in particular, weighed something like 10 tons, and although it was possible to lighten the weight by hollowing the interior of the upper part (Fig. 6) the lifting, poising and fitting into position of this mass on the reconstituted column-drums beneath posed a number of problems. Although the masons were skilled and indeed unusually deft and strong in man-handling large masses of stone, they were quite unfamiliar with archaeological requirements and what might be called questions of taste; and all final rendering of the cement surfaces had to be undertaken by the architect himself.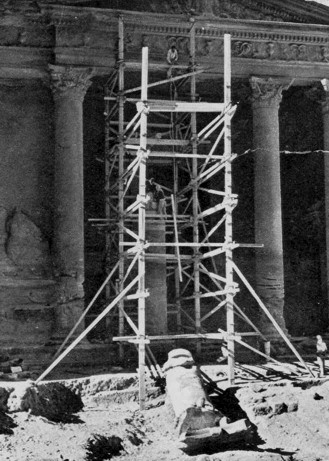 It was essential that repairs and reconstitutions should be seen to be repairs, but not to be blatantly obvious or to "shout" beside the original materials. In general the local profusion of many-coloured earths made it easy to achieve cements of the appropriate colour; repaired faces were all set a little inward of the original level; and finally the cement surface was treated as it was drying by wiping with a cloth or brushing with a stiff brush to remove the disastrous sheen usual with trowel-finished cement.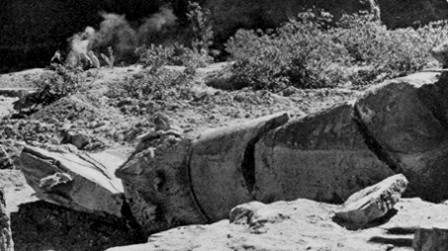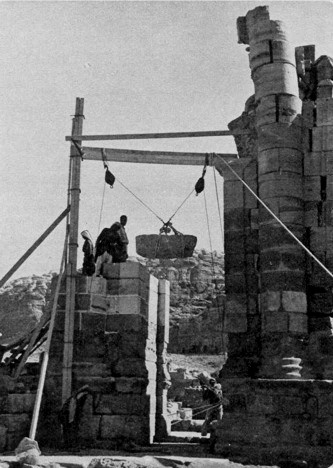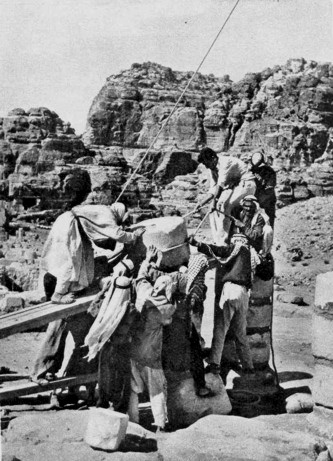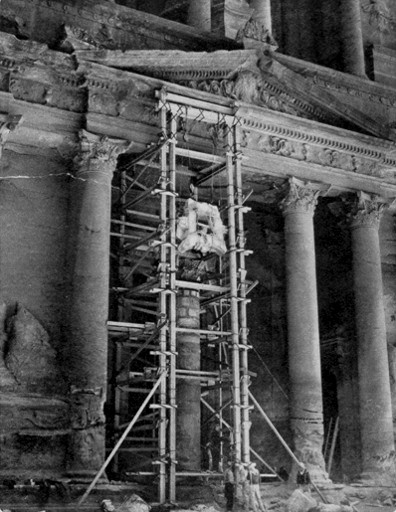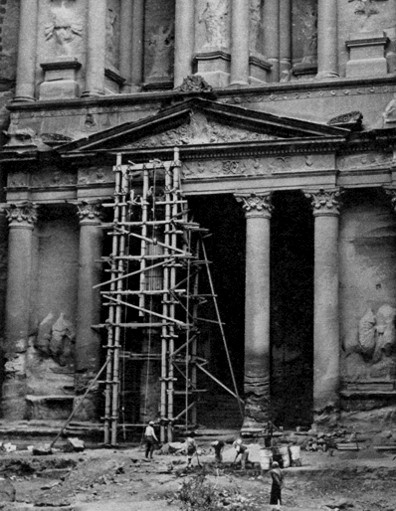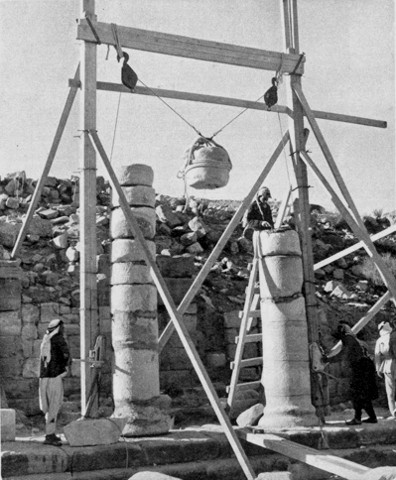 The Illustrated London News, 1962 Republished here with permission.