In Wadi Sabra, the Nabataeans had an agricultural and industrial settlement. Hewn into the cliff on the left is a theater. Above the theater was a water reservoir. Behind the theater stage is another water basin. Along the sides of the wadi are many cave homes. Past the theater is a cult niche in the cliff, just beyond the perennial sprint, Ain Sabara. On the north west side of the wadi, above the sprint are the ruins of a monumental building with large columns which may have been a temple. There is a heap of copper ore slag on the top of the wadi embankment. Cupriferous sandstone deposits, iron ore and copper are found along the wadi, demonstrating how this was an important mental-working center at Petra.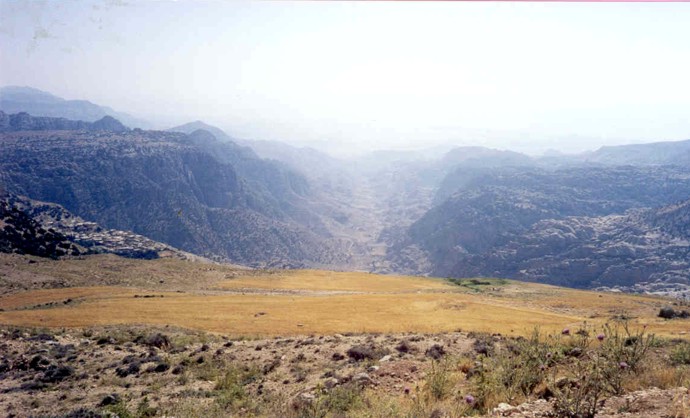 In 2003 a group of Nabataean enthusiasts attempted to enter Al Sabra through the canyons south of Petra. When attempting to save time with a shortcut, they became lost in the maze of canyons for several hours before emerging into Petra. You can see some photos of their trip on this page.
There are many ways to get to Al Sabara. The easiest, described below, is to start at Darshares Temple and hike along the bottom of Um al Biyara (as if you were going to Aron's Tomb) until you get to the snake monument. From there it is another hour hike to Wadi Al Sabra. At one time this route was sign posted. The second route starts on the Hotel road above Wadi Mousa. Start south of the Grand View Hotel and head down the mountain and west towards the Sabra mountains. You pass down fields, a rough road and just before the flat-topped Tabqa mountains turn south down the gorge called Ras Sabra, along a clear track until the wadi widens. From there it is easier to hike into Petra than to climb back up the mountain.