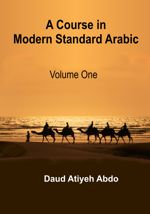 Daud Atyeh Abdo Volume 1
Description: This is the book that Dan Gibson used to study modern standard Arabic back in 1979. It is still an excellent textbook, but the articles are a bit dated, as there was a lot of concern in those days about communism. So don't expect articles about ISIS or other modern day issues. However, it is a very practical book, with English lessons at one side of the book, corresponding with Arabic lessons on the other side of the book. Published by Khayats, Beirut, 1962. This has been a standard textbook for learning Modern Standard Arabic for many years. It includes an index of the vocabulary introduced in the lessons.
Due to its large size, please allow time for the pdf file to download. 18 MB in size.
Ebook: 210 pages
Publisher: Khayats, Beirut (1962)
Language: English and Arabic
ISBN-10: unknown
Price: 0.00