Ma'an to Ras al Naqab Branch Line (enroute to Aqaba)
During the construction of the Hijaz railroad in 1908, drilling crews discovered phosphate rock deposits along various parts of the railway. However, since phosphate was not considered a very valuable resource, it was never explored or developed further.
Some years later in 1926, a young Jordanian man, Amin Kawar established the first pharmacy in the city of Amman. Amin also had an avid interest in geology and mining, and so he began digging for valuable minerals in the hope of brining wealth to his country. On October 31, 1935 he rediscovered phosphates in the railway cuttings near the town of Ruseifa.
Amin's discovery led to the establishment of the Trans-Jordan Phosphate Company, which by 1939 was exporting to the outside world through the port of Haifa in Palestine. Exports were suspended due to the outbreak of the Second World War. After the 1948 Arab-Israeli war, phosphate was exported via Beirut and eventually to Aqaba.
Eventually the Jordan Phosphate Company was established (March 1949) and four mines came into operation, although the Al-Ruseifa mine ceased production in 1985. (Al-Hassa Mine, 1962, Al-Abiad and Eshidiya 1988)
In order to transport the phosphate to the coast for export a rail line was needed. Since the source of the phosphate was taken from immediately beside the Hejaz Railway a plan was put in place to transport the phosphate south to Ma'an using the existing rail line. Australian troops in 1942 then constructed a branch line south from Ma'an, passing the well of Abu Lissan and ending up at the edge of a cliff. At this point, a new town was formed, and the station was named after the shape of the hill that extended into the cliff. It was called Ras al Naqab. "The head of the calf." This station soon became a boom town as other goods as well as passengers started arriving.
The phosphate was unloaded at Ras al Naqab into a storage building where it was re-loaded onto trucks. These trucks then took the phosphate over the cliff, using a winding and treacherous road that led them to Dabatt Hanout at the bottom of the cliff. From here the trucks carried the phosphate down the British constructed road through Humeima to the port of Aqaba where it was loaded onto ships for export. The 88 kilometer trip from Ras al Naqab to Aqaba took the drivers a full day to navigate.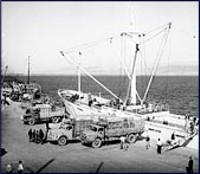 The Ma'an to Ras al Naqab line was abandoned in the 1970's when the mining companies constructed a new train line that passed around the end of the Naqab escarpment and back through Wadi Rumm and then into Aqaba. The rail lines to Naqab were then removed, but the platform and storage facilities remain in Ras al Naqab to this day.